Breaking the mould of traditional interior design
When Diana & Laura started working together at L'Oréal back in 2004, little did they know they would be running a successful tech company 14 years later. Here's their story so far...
Laura and Diana: "We spotted a gap in the market. It's totally possible to design physical rooms without actually visiting someone's home. We can actually design people's rooms virtually.
We actually modernised the archaic model of interior design and looked at what customers real pain points are today. They don't have time, they don't have the budget and they don't want to make expensive mistakes. And these are all the new generation of problems that people have that we felt through our service and our platform, we could solve for them."
Lucy: "Diana and Laura are amazing. They had a vision and they've worked so hard and built the company into what it is."
Laura: "We are one of the top interior designers on the Houzz platform and there's currently 6.5k interior designers on there.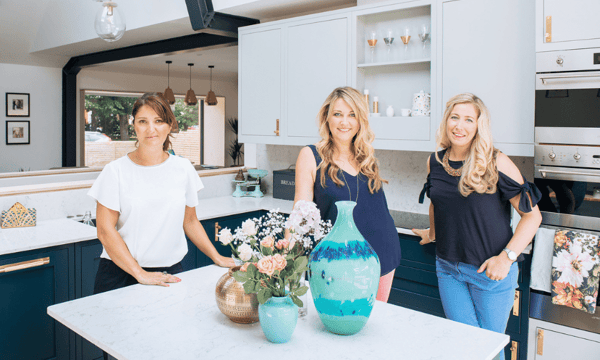 My Bespoke Room was born out of personal needs that we had. I'd just bought my first home and I didn't have enough money to spend on a very expensive interior designer. I was really frustrated with the resources that were available."
Diana: "What was really frustrating for me when I was renovating my home was that it was so incredibly expensive to hire an interior designer. We're changing an industry but it's still important to have that connection with the customer.
When we receive a client brief we go through the details and we match them with the most suitable designers based on a whole range of criteria based on their style to their personal circumstances to the style of property."
Laura: "I love seeing the design come to life. Discussing colour schemes and layouts - it's a real problem solving exercise."
Diana: "Work life balance today is so important. We have come to realise that over our careers and we want to make sure that our teams are motivated and have that work life balance as well as that passion for design."
Laura: "It's a combination of using technology and experience in the right way. The majority of people out there don't think interior design is for them, but that's just not true. Through My Bespoke Room, we're making it affordable and accessible for everyone."
Lucy: "I think what Laura and Diana have done with the company is bring interior design to the masses. It's friendly, accessible and affordable."